RECYCLE – REDUCE – REUSE
At eco-cards we are committed to the 3Rs: Recycle – Reduce – Reuse.
One of the biggest barriers to recycling for consumers can be the lack of clear recycling symbols. Consumers need clear symbols to understand what to place in recycle bins.
A way to increase plastics recycling rates in the UK is to add the plastic resin codes onto all plastic packaging. Therefore we recommend that all our cards have the relevant resin code or paper stream recycling logo printed on them.

eco-cards – GREATER ECO ALTERNATIVES
A much more environmentally friendlier alternative to PVC cards. eco-cards only produce easy-to-recycle polypropylene (PP) and sustainable, recyclable board cards. All of which are specifically developed to ensure excellent performance.

For consumers, retailers and producers alike the environment is rightly a key issue. Concerns about waste plastic have grown significantly in recent years through programmes such as BBC's Blue Planet. Highlighting global issues with discarded plastic waste and micro plastics polluting our oceans and destroying wildlife.
eco-cards develop products that give consumers and retailers a better choice by liaising carefully with expert organisations. Sustainability and the full-life environmental impact of our products have been core to all of our decisions. ECO can be an evocative term, eco-cards understand that. Although we haven't yet eradicated plastics, we will not use the most harmful plastics such as PVC which is still widely used in the card industry.
We continue to develop and introduce more eco-cards products that offer the card industry a better choice.
RESOURCES AND WASTE
The UK Government's Blueprint – Dec 2018
Under a major new government strategy businesses and manufacturers will pay the full cost of recycling or disposing of their packaging waste. Recently unveiled by the Environment Secretary in December 2018, the move will overhaul England's waste system. It will put a legal onus on those responsible for producing damaging waste to take greater responsibility and to foot the bill.
The Government believe that it will eliminate avoidable plastic waste. And it will help leave the environment in a better state than we found it for future generations.
This blueprint also means that householders will see the existing complicated recycling system simplified a new plans for a consistent approach to recycling across England.nd
"Our strategy sets out how we will go further and faster, to reduce, reuse, and recycle. Together we can move away from being a 'throw-away' society, to one that looks at waste as a valuable resource.
"We will cut our reliance on single-use plastics, end confusion over household recycling. Tackle the problem of packaging by making polluters pay, and end the economic, environmental and moral scandal that is food waste.
"Through this plan we will cement our place as a world leader in resource efficiency. Leaving our environment in a better state than we inherited it."
– Environment Secretary Michael Gove MP
"Polypropylene is one of the most versatile and widely recycled polymers used today and is collected both from commercial and industrial waste streams and households via curbside collection. Once recycled, it has the widest range of secondary markets across multiple sectors.
Above all avoid use of degradable or compostable plastic materials. They don't always do what is claimed on the tin. Furthermore they will prove an existential threat to end markets for recycled plastics if they begin to flow into the mechanical recycling supply chain."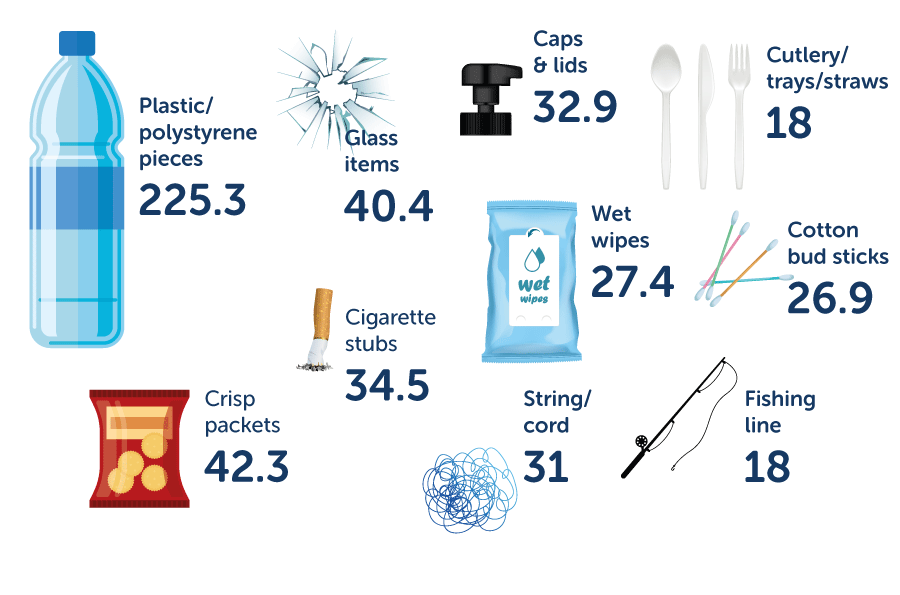 LET'S FIGHT PLASTIC WASTE TOGETHER
A staggering 600 pieces of litter were found for every 100m stretch of UK beach surveyed.  This was during the recent Marine Conservation Society Great British Beach Clean Up event held in September 2018.
However, despite this being a huge amount it actually shows a decrease nationally of 16% on the previous year. Currently only 9% of plastic waste is recycled globally. With 12% incinerated and 79% accumulated in landfill or the natural environment.
Using easily recyclable plastics, eco-cards believe that together we can help consumers recycle more and reduce plastic waste.
ELIMINATING PVC
There are significant differences between polyvinyl chloride (PVC) and polypropylene (PP). PP is one of the most neutral plastics, containing only two elements: carbon (C) and hydrogen (H). PVC by comparison contains about 30% by weight, of the element Chlorine (Cl) in its basic structure. It is well documented that chlorine, like all halogens, is a dangerous substance in the environment.
When PVC is incinerated or present in accidental fires it produces toxic byproducts. These include dioxins, chlorocarbons and hydrochloric acid. Complete combustion of PP, on the other hand, will generate only carbon dioxide and water.

eco-cards PRODUCTION WASTE
IS FULLY RECYCLED
• Polypropylene waste from Ryedale Group/eco-cards is collected
• Waste product is then inspected, checked and verified
• The waste Polypropylene is then granulated and then flaked into 1 tonne bags ready for compounding
• Ryedale Group/eco-cards flaked product is then sold to two large European compounding customers that make plastic products for both the building and household industries
• Next stage production is fully licensed and compliant
• Product is tracked from receipt at the UK based recycling facility through processing and onto the end customer with complete transparency